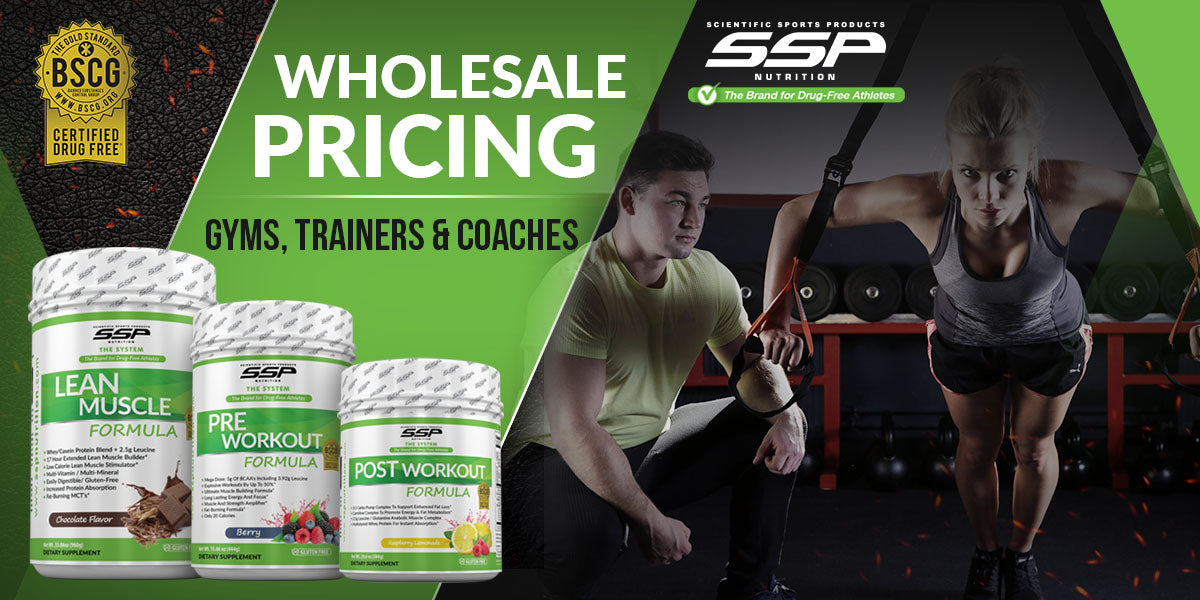 Collection:

Wholesale/ Bulk orders

CONTACT support@sspnutrition.com for requests on wholesale/bulk pricing




 

SSP Nutrition supports Gyms, Trainers and Coaches to affordably fuel their athletes with proven, certified drug free supplements. The key to athletic success begins with a dedication to proper training and nutrition. Athletes are constantly challenging their bodies and pushing themselves to new limits. It is important for athletes to learn as much as possible about the supplements they're interested in using. If an athlete elects to use a dietary supplement (as many do, studies show), safe and responsible consumption is vital. In the end, it is the athlete who is responsible for what they are putting in their body.

THE SYSTEM™, formulated by multi-time I.P.F. World Champion and Lifetime Drug-Free Athlete, Dennis Cieri, takes the guesswork out of supplementation.

SSP Nutrition commits to quality control above and beyond dietary supplement industry standards by participating in the BSCG Certified Drug-Free® supplement certification program. SSP Nutrition THE SYSTEM™ has been certified to be free of 485 drugs. This includes 274 drugs banned in sport and an additional 211 prescription, over-the-counter, and illicit drugs not banned in sport. When it comes to drugs banned in sport, the BSCG Certified Drug Free® Testing Menu targets drugs on the World Anti-Doping Agency (WADA) Prohibited List. The WADA Prohibited List governs Olympic sport and is used by all national anti-doping organizations (NADOs) including ASADA, UKAD, and USADA. It serves as a model for sport federations, professional leagues, college, military, and vocational drug testing programs, which ban many of the compounds on the WADA Prohibited List. SSP Nutrition THE SYSTEM™ provides maximum security to general consumers, as well as to athletes and professionals across the spectrum of WADA, NFL, MLB, NHL, NBA, WNBA, PGA, LPGA, MLS, ATP, WTA, FIFA, FINA, AFL, NRL, NASCAR, UFC, CrossFit, NCAA, military, law enforcement, and other drug-testing programs.